Overview of parting wall construction deficiencies
Background of problem discovery
After receiving notice from two apartment owners, we confirmed that parting walls of attics depicted in construction certificate documents were not constructed in two apartment series "Gold Nail and New Gold Nail (the "Nail series")" developed and sold by Leopalace21. (announced in a press release on April 27, 2018)
Also, during investigations of series other than the Nail series, we confirmed discrepancies between floor plans and construction manuals in six series other than the Nail series: Gold Residence, New Silver Residence, New Gold Residence, Special Steel Residence, Better Steel Residence, and Con Grazia (the "six series"). Some of these apartments have the possibility of being in violation of the Building Standard Law. (announced in a press release on May 29, 2018)
Cause of construction deficiencies
We are still investigating the cause of construction deficiencies, but we believe the currently assumed factors below are the cause.
Discrepancies between floor plans and construction manuals
In the past, there were frequent upgrades of apartment products, and it was confirmed that the specifications of buildings were difficult to understand and there were discrepancies between floor plans given to contractors and the construction manuals.
Inadequate inspection system
Although we had been conducting inspections, collation of floor plans and the construction on-site was inadequate, due to the fact that properties were standard products (not custom-ordered). Also, only self-inspections were implemented, and we recognize that the inspection system was inadequate.
We have organized a check system by the headquarters for properties constructed on and after 2008. Currently, we conduct nine internal inspections and four inspections by third parties, and strive for quality control.
We will continue with the investigation, and make efforts to discover the cause of the deficiencies.
Explanation of parting walls
Definition of parting walls
Parting walls are walls that separate dwelling units (rooms) in apartment buildings.
These walls must fulfill certain standards (sound insulation and fireproof) established by the Building Standard Law (Article 30 and Law Enforcement Order Article 114) and other related laws and regulations, and must reach the small scale attic or space above the ceiling.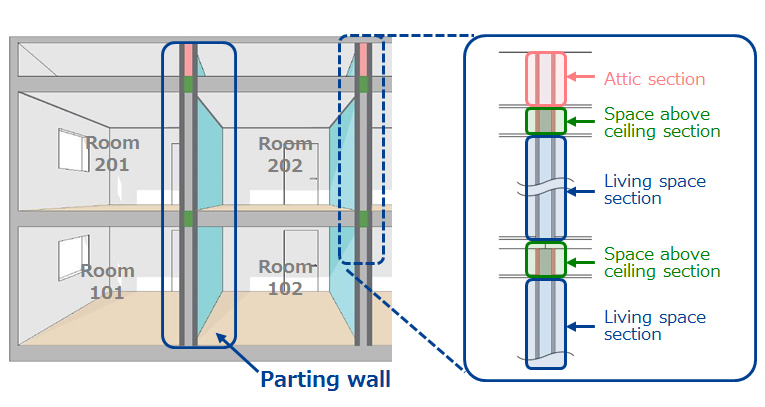 Impact of construction deficiencies
Construction deficiencies have been confirmed in parting walls of attics and spaces above ceilings in certain properties constructed by Leopalace21.
There is a possibility that fire resistance will decrease in properties with construction deficiencies in parting walls of attics and spaces above ceilings. Similarly, noises from neighboring rooms may pass through more easily through attics or spaces above ceilings.
Structural resistance of parting walls and buildings
In general, there is no impact on the structural resistance of buildings from construction deficiencies of parting walls in attics or spaces above ceilings.
※This is not the case when the parting wall acts as a load-bearing wall.