With real estate expertise as our core competence, we have created a unique business model that combines the Leasing Business, which focuses on apartment leasing and management; the Development Business, which builds apartments; Elderly Care Business, which operates nursing and fee-based residential care facilities; and other businesses.
Leasing Business
We are mainly engaged in leasing and management of leased apartments as a result of construction subcontracting of apartments through master-lease contracts, various rental-related services, and broadband services. We offer two types of leasing services: a leasing contract with a contract period of one year or more and a monthly contract with a period of 30 days or more.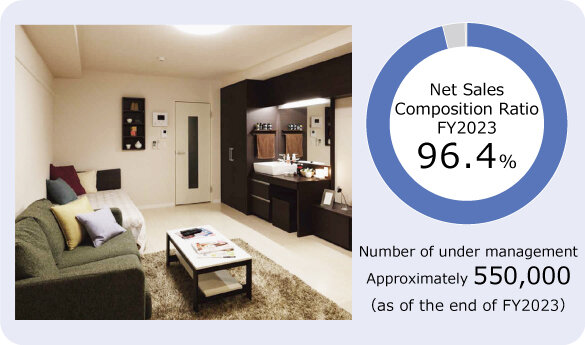 Leopalace21 leasing services
LEONET, broadband services(Japanese only)
Development Business
We have developed products that achieve various high performance features required for rental housing, such as low cost, energy saving, and high durability. Our products are also highly regarded for their sophisticated design and functionality. In addition, we provide strong backup for owners' long-term rental housing business through the master lease system to pay rents for all units in apartments.
Included in Leasing Business Segment for accounting purposes
Elderly Care Business
In response to Japan's aging society, we operate group homes, day-care services, short-stay services, and fee-based nursing homes that are closely linked to local communities, and also provide services such as visiting care and in-home nursing care support.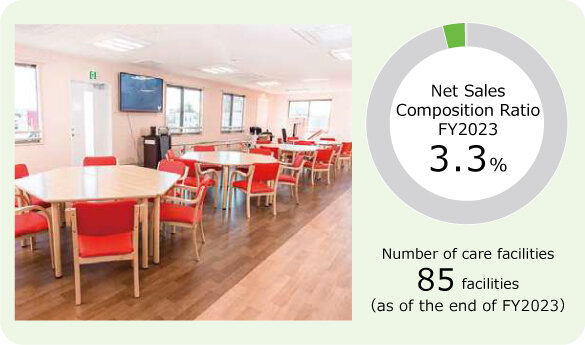 Other Businesses
In Guam, we have Leopalace Resort Guam which runs golf courses, a hotel, and other facilities. We adopted the early sale policy as a part of the fundamental business strategy restructuring announced in June 2020.